CLIMATE TOOLS
In the fall of 2015, CIRC embarked on an ambitious new effort: developing a series of free, online services and applications that will sort through, sift, systematize, classify, catalog, and otherwise deal with and declutter the volumes of data that has resulted from our research. We are calling this effort Climate Tools.
The goal of Climate Tools is simple: we want to aid our fellow Pacific Northwest residents as they incorporate climate information—from short-term climate forecasting (months) to long-term climate projections (decades)—into adaptation and resource management strategies designed to keep our region's wildernesses, communities, and businesses resilient and flexible under the changes we face now and into the future.   

Northwest Climate Toolbox
CIRC's Northwest Climate Toolbox provides timely climate and weather information to Pacific Northwest farmers, businesses, and resource managers. Filled with tools that map and visualize climate and weather conditions, the Toolbox helps its users better manage their financial and natural resources by giving them the information they need to respond to and plan for weather and climate impacts.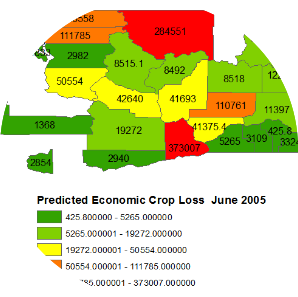 Agricultural Data Mining Systems
CIRC's Data Mining team is currently collecting data from federal, state, and municipal repositories and then sifting through that information using sophisticated data mining techniques empowered by machine learning. The goal is to discover useful patterns and relationships and turn them into science that can be put to work for our fellow Pacific Northwest community members as we plan for climate change.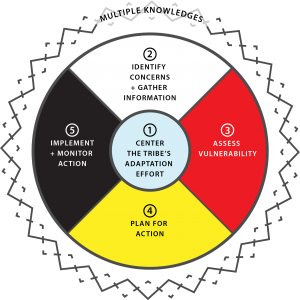 Tribal Climate Adaptation Guidebook
Climate change stands to affect tribal sovereignty and self-determination, tribal culture, and the community health of Indigenous peoples. The Tribal Climate Adaptation Guidebook was created to aid tribes as they work to adapt to climate change. The project received funding from the North Pacific Landscape Conservation Cooperative with supplemental funding from CIRC and the Oregon Climate Change Research Institute.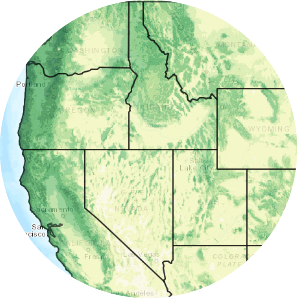 Integrated Scenarios
Integrated Scenarios of the Future Northwest Environment (Integrated Scenarios) employs the latest climate science to understand what the Pacific Northwest will look like under climate change throughout this century.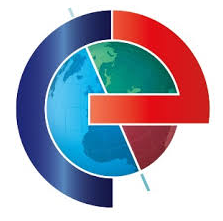 Climate Engine
Climate Engine is a free web-based application that allows users to intuitively interact with high-resolution climate and remotely sensed data. Climate Engine leverages the technology behind the Google Earth Engine cloud-computing platform.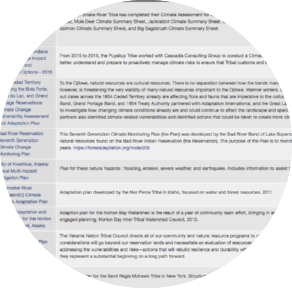 Tribal Climate Change Funding Guide
An effort of the Pacific Northwest Tribal Climate Change Project, the Tribal Climate Change Funding Guide assists Pacific Northwest American Indian tribes as they respond to climate change's impacts on their cultural and natural resources.